The sight of an extremely rare irradiated turtle making its way along the dusty sidewalk of a southern Madagascar road is emblematic of what the country is going through.
The creature, with its unusual tall shield and distinctive yellow markings, is critically endangered.
It is disappearing at such a rate, conservationists warn it could become extinct in the wild within 20 years.
It should absolutely not be seen, wander in the open air, exposed like this.
We spot it as we cross the southern tip of Madagascar where it is endemic but where it is also extremely vulnerable.
The landscape is changing so drastically due to long periods of drought and deforestation, that these creatures are increasingly threatened by poaching – whether for their meat or for sale.
In a country where more than 90% of the human population lives below the poverty line, earning the equivalent of less than $ 2 a day, the temptation to plunder the country's natural resources is overwhelming for some – especially when many are in difficulty live, eat, survive.
The United Nations has described it as the first country on the brink of famine caused by climate change.
Large parts of the country are simply hungry.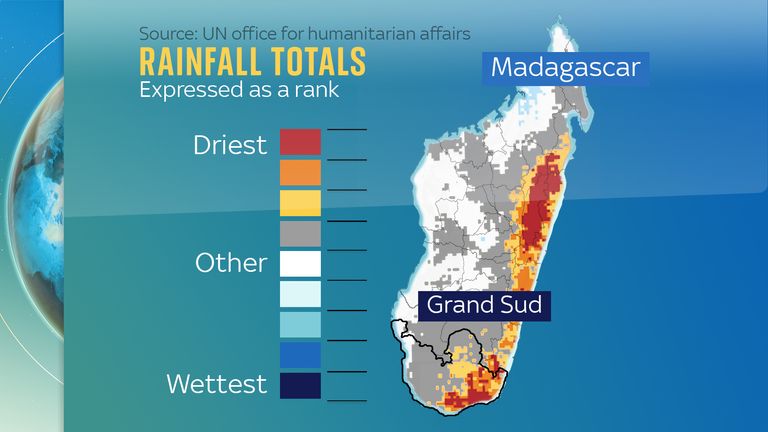 Desperate times prompt many to take desperate action.
A radiated turtle can fetch millions of ariary (the equivalent of tens of thousands of dollars) on the black market.
There are stiff penalties for poaching, but hunger is drowning fear of prison terms as people scramble every day just to feed their families.
Hungry people, especially in the south, increasingly resort to cutting down trees to make and then sell charcoal to buy food.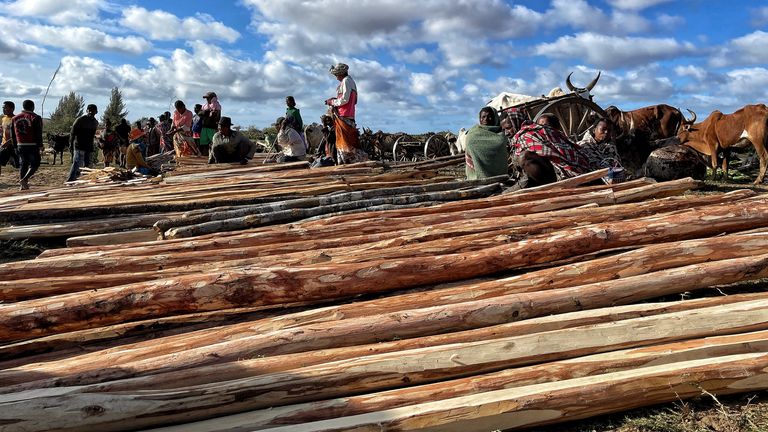 We saw carts full of wooden planks, branches, sticks, roots and sacks of charcoal, all laid out in abundance, ready to be sold in what was supposed to be a cattle market near the southern town of Tsiombe.
All of the salespeople we spoke to admitted that they knew their actions were serious to their own environment, but all came back with a version of the same response: "We have no choice. We are hungry."
A woman sat on the floor with a piece of cloth lying in front of her, displaying less than a dozen sweet potatoes she was trying to sell.
She told us that she had to buy them and that she was now trying to resell them so that she could buy rice to feed the baby who was sitting on her lap.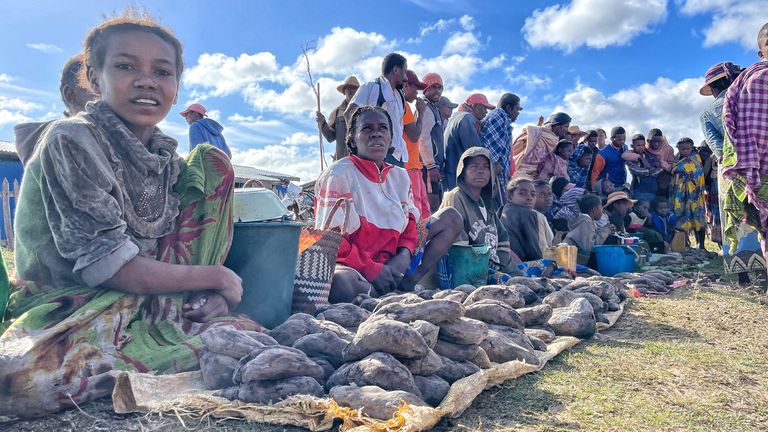 She has five other children but they would not be fed that night.
She was going to be extremely lucky if she sold enough for the baby to feed.
The others would be hungry – again.
Vast swathes of the island's forests are being destroyed in search of ways to earn money to buy food – an estimated 40% of the forests have been lost since the 1950s.
Prolonged drought and other extreme weather conditions on the world's fourth largest island now appear to be accelerating this deforestation.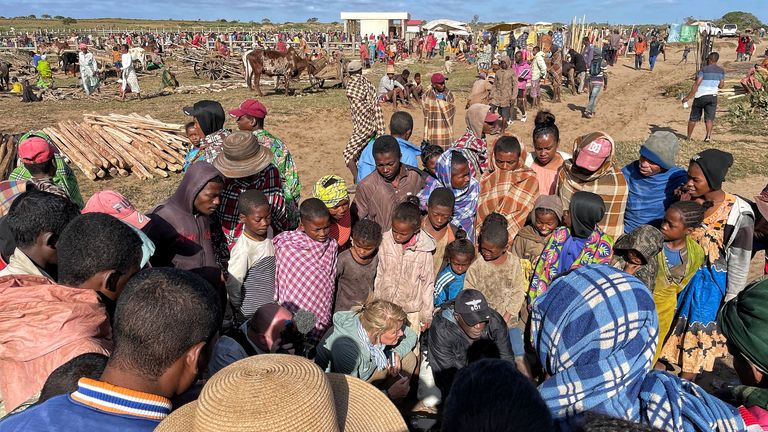 The ripple effect is that it also endangers its unique wildlife.
Most of the people in this place, one of the poorest in the world, have no electricity, so they also make and burn charcoal for cooking and warming.
Residents speak of increasingly extreme weather conditions – and in addition to the global coronavirus pandemic – this has added to their considerable challenges.
The country's president, Andry Rajoelina, urged the world leaders he met at COP26 in Glasgow to accelerate the $ 100 billion agreed under the Paris Agreement to finance an energy transition policy in Africa in order to to find alternatives to charcoal.
#Madagascar can be the showcase of green development and ecological emergence. I call on the leaders of the whole world to accelerate the mobilization of the 100 billion dollars of the Paris Agreement in order to finance an energy transition policy in Africa. # COP26

– Andry Rajoelina (@SE_Rajoelina) November 2, 2021
#Madagascar calls for an energy transition in Africa through the financing of alternative solutions to charcoal, in particular by popularizing the use of bioethanol and biogas-based stoves to preserve our forests.

– Andry Rajoelina (@SE_Rajoelina) November 2, 2021
But it takes large-scale and pervasive changes in the way the world lives if Madagascar's environmental problems are to be addressed.
We saw a fishing boat that had been unused for about a week on the shore of Faux Cap, already half silted up.
The winds are so strong that the fishermen haven't been able to set sail for over a week – and often leave for much longer.
"We borrow money to eat," said Henri Claude, the village chief, "and then we try to pay it back when we can fish."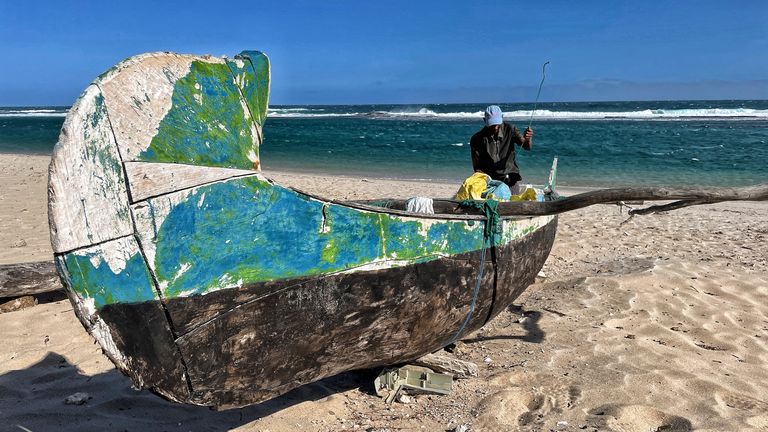 Many buildings here were buried by the quicksand – a school that Henri Claude himself attended was barely visible, only its roof and the top inch of the window were still visible.
It began to disappear under the sand over two decades ago and is now virtually covered by dunes.
Other buildings like the police station and the local government office are also half-buried.
"The sand keeps coming," Henri Claude tells us. "Everyone is scared and many have left. We cannot get any investment here because people are afraid of moving dunes."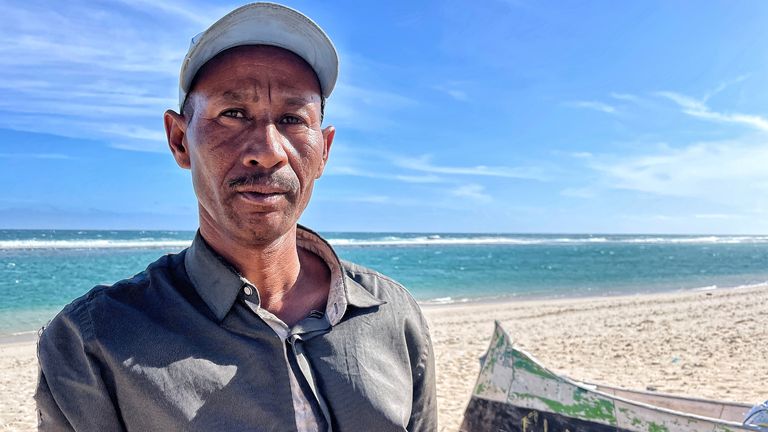 Villagers planted rows and rows of sisal trees in an attempt to slow land degradation and curb soil movement.
Sisal can survive with little moisture and is hardy, but even they are struggling to survive in this record drought. and we saw a lot of them that got blown away once they got to a certain height.
The coastline is beautiful, but the life of the people here is undoubtedly difficult.
The winds – known locally as the tiomena (or red storm) – engulf their crops, blow up the roofs of their homes, and sometimes make it difficult to breathe.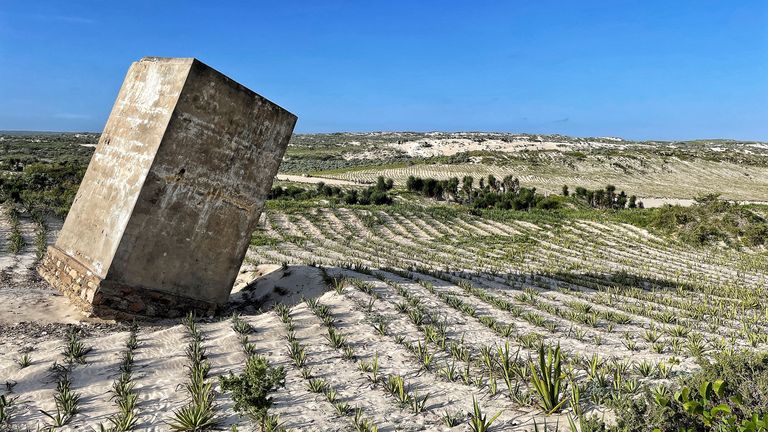 "We suffer from coughing and breathing," says Henri Claude, "and the tiomena is becoming more and more frequent. It's not normal.
Nothing seems normal in Madagascar, a country renowned for its beauty and the abundance of its natural resources, with species of birds, fauna, flora and fauna not seen anywhere else in the world – and which is now threatened by the actions of humanity.
Alex Crawford traveled to Madagascar with cameraman Kevin Sheppard and producers Chris Cunningham and Mark Grant